Our "One to One" Courses are a full 1 day course designed for those who prefer individual attention in their tuition. You will spend the day with one of our qualified, experienced and skilled photographers who will not only teach you the basic functions of your camera but help develop your own personal style and vision. Our aim is to take you away from using the auto settings on your camera and give you the confidence to start using the more advanced semi manual and full manual settings, thus creating a whole new world of photography. This course includes both theory and practical tuition.
Subjects covered include:
Basic settings and functions of your Camera.
Using and understanding the effects of aperture priority.
Using and understanding the effects of shutter speeds.
Understanding ISO.
Composition.
Exposure and your histogram.
Basic Photoshop.
You will not find this course in our" Events-Calender tag", anyone interested in this Course should either contact us by email or telephone 07531581750 for further details with regards to booking and making payment
Price of this course £180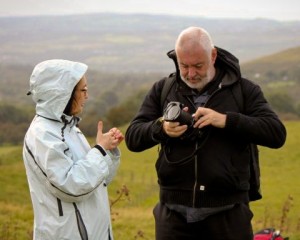 Wayne out and about with one of our Students